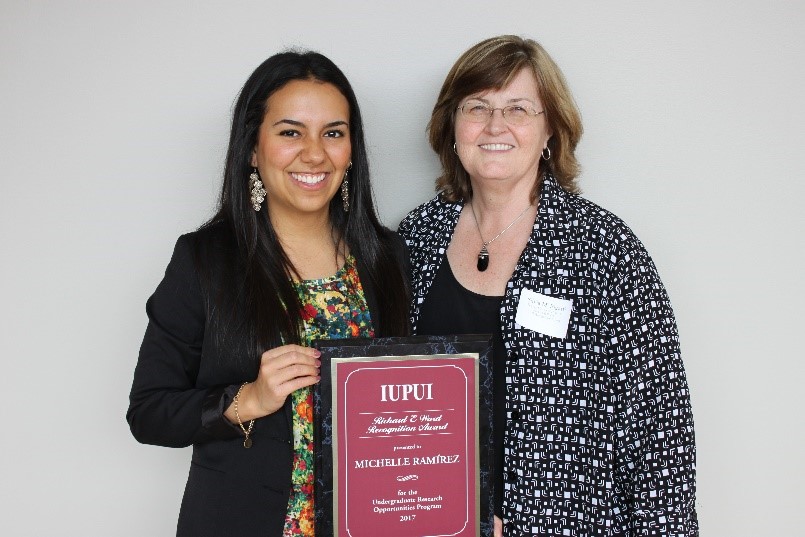 Michelle Ramírez with faculty mentor Dr. Silvia Bigatti
At the annual Center for Research and Learning award luncheon this spring, Michelle Ramírez, a community health major and Diversity Scholars Research Program (DSRP) scholar, received the 2017 Richard E Ward Undergraduate Research Opportunities Program (UROP) Recognition Award. In summer 2016 alone, she did multiple projects, three while in Colombia for two and a half months through UROP. Michelle shadowed four physicians with the Universidad del Valle Escuela de Medicina in Cali, the nation's third largest metropolis. The U.S.-born Ramírez aspires "to impact people on a global scale."

She continues, "I want to see funding for student research travel to be restored. My favorite thing out of my four years was this Colombian international-research experience." In November 2016, a groundbreaking peace accord ended decades of violence between the South American country's government and the Revolutionary Armed Forces of Colombia (FARC). Their federal government has designated funds to create programs for reparations, and the Instituto Cisalva, in the Cali university's School of Public Health, created two mental-health interventions for victims of armed conflict. Ramírez wrote a letter to a journal about Afro-Colombian victims, pointing out the need for research on how perpetrators reintegrate into society. She also is writing an article on the scarcity of data in Latin America on suicide in pregnant women.

Michelle's summer UROP project focused on cultural factors that predict depression, comparing Indiana Latino adolescents with those in their country of origin. The particularly family-oriented nature of Latin culture compounds the issues for immigrants who leave loved ones behind, in addition to struggling with navigating two different cultures. Many U.S.-born Mexican-Americans, for instance, often find themselves treated as outsiders in both countries. In Indiana, Latino adolescents experience higher rates of depression and suicide attempt. To address these issues, IUPUI faculty members Monica Medina and Silvia Bigatti, with their community partner, Virna Díaz of the Latino Health Organization, created a summer camp called Your Life, Your Story (YLYS) to help such youth to build coping skills.

Ramírez, who served as an YLYS peer mentor, reflects, "I think at every stage in life you should have a mentor and also mentor others to give back." Of her own faculty mentor, she comments, "My relationship with Dr. Bigatti has just been super instrumental! I just wouldn't be today where I am without her guidance and support. Dr. Bigatti introduced me to the type of research where you're making an impact on people's lives. CRL has played a big part in my college career!" For summer 2017, Michelle will pursue research in Africa.